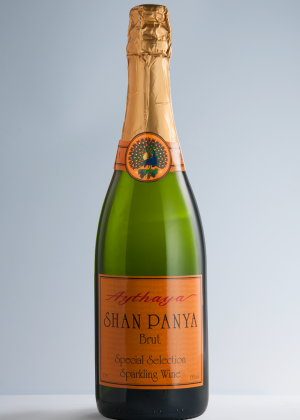 Shan Panya
" When Hans Leiendecker, our Production Director, joined the Myanmar Vineyard company, one of his first requests was: " We need to have a high quality sparkling wine, made in Aythaya".
That was the beginning of a series of production runs which ended with the creation of our "Shan Panya" in 2016 .
The challenge was, to find the best white wine grape variety to make a high quality sparkling product.
The most noble Sauvignon Blanc grapes then have been selected to give this sparkling event his delicate fruitiness and remarkable character
"Shan Panya" is a sparkling wine with significant levels of carbon dioxide with typical tiny bubbles.
After processing, it then still takes some time of maturing, before such noble sparkling drink satisfies the demanding palate of connoisseurs.
Now, with " Shan Panya " we can provide a high quality sparkling wine to the market for celebrations and special festive occasions "